The following GDC Products have been accepted by the
USDA Technical Standards Committee "A" (Telecommunications)
for inclusion in the Rural Utilities Service (RUS) List of Materials:
---
ProSphere, the umbrella name for a suite of powerful and easy to use network management applications, is a client server, platform independent, distributed system offering comprehensive support for integrated solutions from GDC.

ProSphere application support includes:


Video-management and video conference scheduling


Web-based remote clients in distributed client server architecture


QFlow application for support of Quality of Service (QoS) for Ethernet enabled services over MPLS


Performance monitoring to prevent network problems before outages occur


End to end integrated network management solutions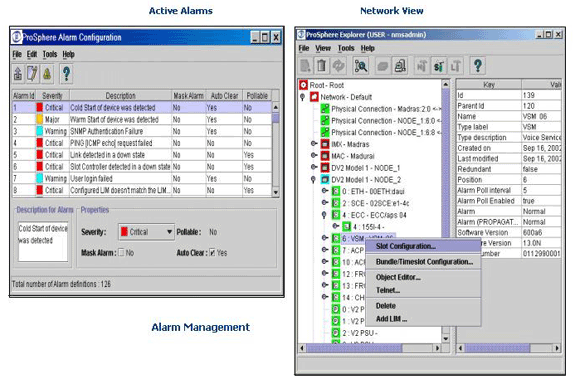 Operating and maintaining wide area multiservice networks can be expensive. That is why any equipment added to the WAN should not exacerbate operational budgets. All of the Xedge devices mentioned in this overview are SNMP manageable, and a key platform to be used in the management of the Xedge network elements is ProSphere, a flexible and scaleable network management system.

ProSphere is an umbrella platform independent client server system that can communicate with various Xedge network elements via SNMP as well as automatically discover the same equipment. As a JAVA based application suite, ProSphere can visually display alarms occurring anywhere within this hybrid network simplifying remote monitoring via a web browser of mission critical networks. ProSphere takes the mystery out of complex multiservice networking by offering operational templates and point and click graphical operations. Simply put, ProSphere saves operators time and money.


---
Data Sheets
---

ProSphere Network Management Suite For Xedge MultiService Networks
---
Product Briefs
---

ProSphere Scheduler - Network Aware Reservation Management

© General DataComm, Inc., 1997-2012. GDC Website Legal Notices. General DataComm, GDC, the GDC logo, Metroplex, Innovx, TEAM, and All Rate are registered trademarks of General DataComm, Inc. Hewlett-Packard and OpenView are registered trademarks of Hewlett-Packard. All other trademarks are the property of their respective owners.