The breadth and scope of GDC's systems integration capabilities enable us to minimize your risk, maximize your technology investment and deliver the best total systems integration services and solutions suited to your unique business needs. Experienced professionals, consultants and engineers focus on delivering business results and performance improvement by bringing complex technologies together to maximize compatibility, interoperability, and enterprise-wide information management.

Our flexible, turnkey and seamless systems integration capabilities include: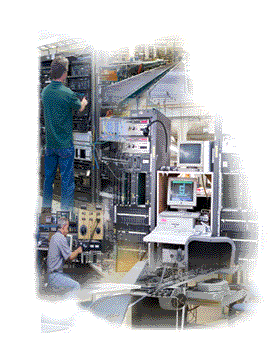 Planning, designing and implementing custom networks and applications



Procurement of hardware, software and accessories



Cabling (within network and at customer premise



Integrating software and hardware components



Providing "Proof of Concept"



Application Integration



Training and change management



Knowledge transfer



Provisioning of circuits



Ongoing systems and applications network management and on-going maintenance



Completion of the Statement of Requirements (SOR) sets the stage for the Infrastructure Network Design & Recommendation phase. GDC's experienced System and Network Architects create designs resulting in highly efficient, scalable and reliable computing environments. Our designs include solutions utilizing best-of-breed products.

Design expertise includes:


IP Telephony



Broadband Switching and Transport



Enterprise Solutions (Desktop)



Legacy Technologies



LAN/WAN



Network Security Strategies



Managed, Network Management and Administration



QOS Optimization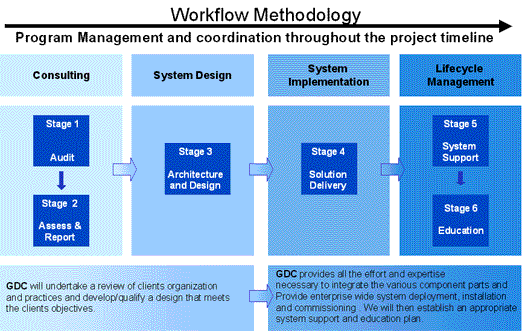 Project management processes and techniques are used to coordinate resources to achieve predictable results. Given the variables associated with any complex project, GDC understands that the essence of successful project execution requires the systematic and predictive analysis of project risks, the establishment of plans for risk avoidance and the execution of these plans should they be necessary. Project management provides the framework, processes, guidelines and techniques to manage the people and the workload.






GDC will receive customer purchased equipment at its 80,000 sq ft facility in Naugatuck, CT. Upon receipt of equipment (including software), the technical staff will Inventory of equipment (including software), unpack, rack, stack and install additional components as required. Our documentation specialist will verify and record serial numbers per Customer requirements, build a system configurator and map for field office records. The EF&I technicians will load and configure hardware and software per design specifications, test the hardware and software and verify proper operation of each component. Our team will perform software licensing procedures as needed.

The end user is welcomed to come to our Connecticut facility to perform acceptance testing. This is the one time all equipment will be under a single roof before it is deployed throughout the U.S. [or the globe]. Following acceptance testing, we will disconnect and repack all equipment, label boxes, prepare shipping documents and ship equipment to the proper site.